About Fortis Cloud Accounting
Fortis Accounting's approach is intended to cause industry disruption. Companies will now access an "outsourced CFO" operation by automating the accountant and bookkeeper roles in any company of any scale. As part of their finance kit, SMEs will offer professional advice from seasoned and competent advisors on a daily basis for the expense of recruiting a small business accountant.
A team of CPAs based in Toronto, Canada, founded Fortis Accounting. They saw inefficiencies that were and costs for both company owners and accountants due to inadequate record-keeping procedures, delayed records, and insufficient coordination when working in accounting, taxes, and advisory for SMEs.
"With the help of advisory, business owners overcome challenges by empowering them to make data-driven decisions."
Fortis takes all of the bookkeeping tasks for the SME and delivers properly reconciled monthly reports, so they can hold constructive discussions with their Fortis advisors about the topics that matter – like company success, policy, and tax preparation – rather than accounting.
"Fortis was created to take care of data entry and reconciliation work without the additional value. We are in the business of bringing accountants and small businesses together and focusing on current business issues, not historical ones."
Our Story
Having worked with SMEs for over 10 years, one thing that we heard repeatedly was complaints about their accountant not being proactive.
When asked to explain more, usually the response would be "My accountant helps me look in the past, but I want to know where I am heading". Or "I want someone to help me set financial goals, use my financials to make decisions, help with cash flow, improve my profit".
To that we would explain that this is not the fault of your accountant as that is just not the service they provide and neither that is their job. In fact, your accountant probably is proactive when it comes to tax structuring and compliance.
What these business owners are looking for is not what you get from a typical small business accountant. Instead of a new proactive accountant, they needed a different type of accountant altogether. A different kind of service.
Mostly small business accountants are tax practitioners and perform compliance work. They specialize primarily in this field of accounting.
Tax is calculated on historical financial position, not on future growth. That is why most tax accountants look backwards. You do not pay tax on potential – so there is no reason for your tax accountant to look forward.
A New Type of Accountant
Large businesses typically engage with more than one accountant for their business.
Besides having an accountant to manage tax compliance, they have other forms of accountants such as financial accountants, financial managers, management accountants and CFOs.
The role of these accountants is focused on the future growth and financial operations of the company. They do business financial planning, developing, and reporting on KPIs, cash flow management and forecasting and providing insights to the owners and managers on what the numbers are saying. Ultimately, the goal is to leverage these insights to improve profit, cash, and financial value of your business.
Overall, there is a big difference between a commercially minded CFO and a tax accountant.
Indeed, they are both technically accountants. But your tax accountant's focus is tax compliance.
The CFO's focus is on driving financial performance. These are completely different frames and capabilities.
We decided to form Fortis Accounting to address this void in the SME space. We combine tax compliance and CFO expertise in one single service package – empowering business owners to make data-driven business decisions.
Yes, we are accountants, but we don't only do your tax returns.
So, next time you're thinking about why your accountant isn't proactive – just be clear about what you're looking for. Rather than replacing your accountant, it's likely that you need a different type of accountant altogether.
Tax Accounting vs Fortis Accounting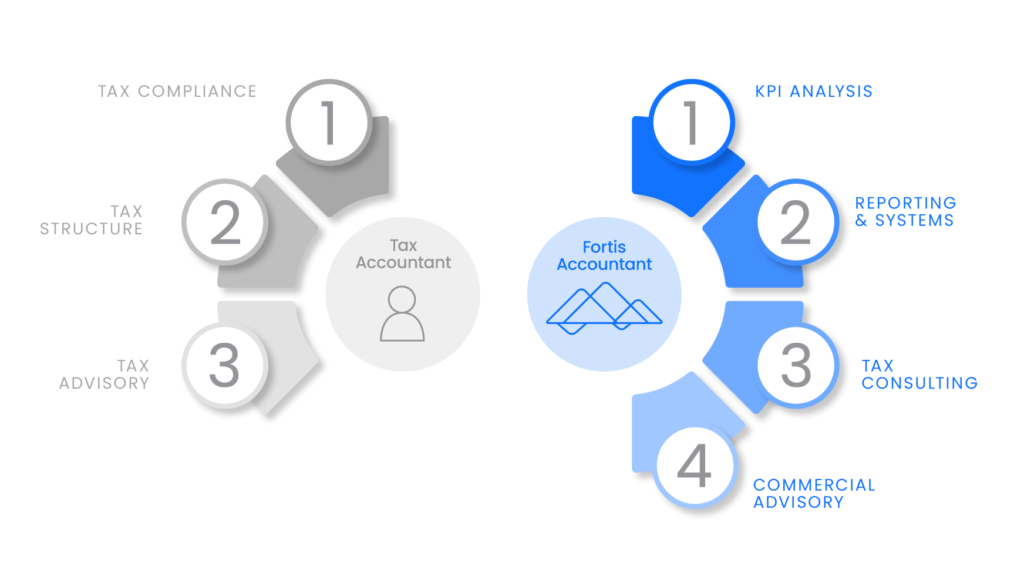 WHERE DO I FIND STRATEGIC FINANCIAL ACCOUNTING SERVICES SUCH AS FORTIS?
It's rare to find this type of strategic financial accountant in the small business space.
Mainly because they come with a hefty price. Many small businesses cannot justify the costs of a full-stack finance team, costing upwards of $300k of fixed annual salary costs in their business. Also, it's quite a narrow field of expertise. It takes a different approach of accounting to blend commercial and financial strategy and apply that to fast-growing business.
That is why we started Fortis Accounting – a different type of accounting firm to provide the full stack of financial services – from CFO, management accounting and bookkeeping, taxation for a fraction of the cost.
With the help of using smart financial technologies we are able to cut down on time and costs of redundant tasks, allowing us to put more time on advisory and help you look forward into the future of your business.